DUE TO UNIVERSAL SUPPLY CHAIN ISSUES, SHIPPING MAY BE LONGER THAN USUAL FOR CERTAIN ITEMS. PLEASE CONTACT US AT ECOMMERCE@JUSTSHADESNY.COM OR (212) 966-2757 IF YOU HAVE QUESTIONS ABOUT A SPECIFIC ITEM. THANK YOU FOR YOUR PATIENCE AND SUPPORT AT THIS TIME
How to choose the right lampshade
Lampshades are the unsung heroes of the interior design process, and choosing the right lampshade can make a huge difference! What other design element offers as much versatility?
The right lampshade can enhance your decor
What other design element offers as much versatility? From size, color, material/texture and translucency, the right lampshade can warm, soften or energize a room, complement your color scheme and dynamically highlight your other architectural, design and decorating choices. Are you getting the most out of your lampshades?
Photo credit of S.R. Gambrel, Inc.
Traditional
Pleating styles
Pleated lamp shades have been used predominately for traditional spaces. The new trend is to use a fun or bold print, and pleat the fabric. Pleated shades give a custom look, without custom pricing.
Bold statements
For a more modern look, go with a hardbacked shade, possibly with rolled edges. Red is meant for bold statements. It could also make a romantic vibe. Every bold color or mix of textures will give a large change to your space. For shapes, you could choose a drum or rectangles.
Modern
DRUM
COOLIE
EMPIRE
OVAL
RECTANGLE
SQUARE
HEXAGON / OCTAGON
BELL
Shape
The more basic the lamp, the more varied the lampshades can be.
Visual synergy is important: if the body of your lamp is tall and cylindrical, a tall drum lampshade may be best; if the lamp has a square base and a round body, a lampshade with a square base and round top may be a good fit. A shapely lamp can take a shapely shade - your goal is to match the mood of the base.
Sometimes breaking the ''rules'' results in unexpected surprises! Trust your eye and individualize your lampshade experience to reflect your distinct aesthetic style.
Size
Proportion is the key to choosing the right size lampshade. Generally, the taller the lamp, the larger the lampshade. Choose a lampshade that is roughly 40% of the overall height of the lamp and roughly double the size of the lamp base.

However, one must also consider the width of the lamp base. Most importantly, the shade must be long enough to cover the socket of the lamp, so that the hardware is not visible. With shades that have a standard spider, this can often be adjusted by changing the harp or adding a riser.

This formula is a general rule of thumb, and may not work in all instances.
How to measure your shade
Lampshade size is shown as: (top) x (bottom) x (side)
If you are replacing an existing lampshade it may help to measure it first. Start by measuring the widest part (diameter) of the top and bottom of your shade, then finish by measuring the slant/height along the side.
Color and Texture
Your lampshade can accent a primary color scheme or highlight a subtle tone in the environment, including the colors in the lamp base.
Lampshades come in a variety of fabrics and textures including paper, linen, burlap, silk, and silk blends. Other materials such as string or sticks add a unique look.
Soft-sided shades are lined and can be pleated or non-pleated, and work best for a more traditional look.
Hardback shades are usually non-pleated and work well with more contemporary and modern looks.
Translucency
Translucency refers to the amount of light that passes through the lampshade. An opaque lampshade directs light from the top and bottom of the shade, often used to create dramatic mood lighting.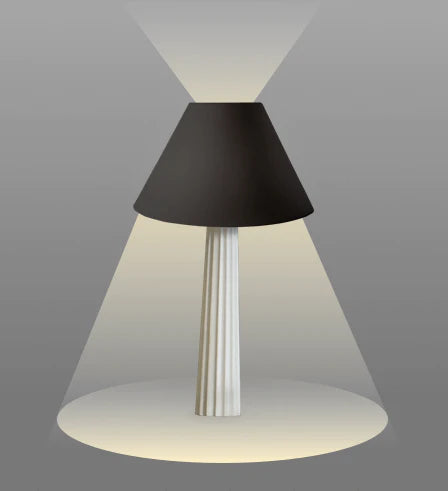 OPAQUE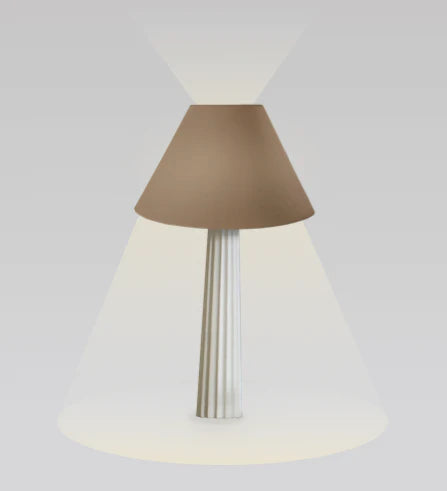 SEMI - TRANSLUCENT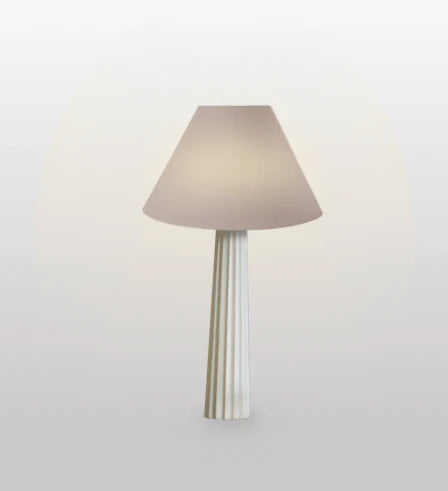 TRANSLUCENT

Colors and translucency
Lampshades come in different colors and textures, each with their own translucency. A translucent lamp shade will allow more light to emanate around the room.

Bulb type and wattage
Light bulb type and wattage play an important role. Be sure you have adequate separation from the bulb to the shade, especially for higher wattage bulbs. Compact Fluorescent or LED bulbs burn cooler and are more efficient.
Fitter
The fitter is hardware that allows you to connect the lampshade to the lamp. There are many different kinds, so make sure the shade you love has the fitter that matches your lamp.
REGULAR BULB CLIP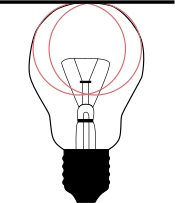 CANDLE BULB CLIP
Bulb clips
Bulb clips are typically found on smaller lamps or chandeliers. Regular bulb clips traditionally clip onto round lightbulbs while candle clips fit onto bulbs that mimic the shape of a candle
Washer & spider fitter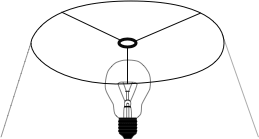 Washer and Spider fitters are typically the most common. These sit on top of the harp and are secured by a finial.
REFLECTOR BOWL FITTER
Reflector Bowl fitters are similar to Spider fitters, however they have grooves in the spider arms that secure the lamp shade's position on top of a reflector bowl. These are often secured by a finial.
NARDI OR SLIP UNO FITTER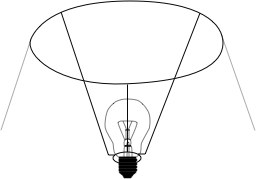 Nardi or Slip Uno fitters are generally held in place by the bulb and sit on top of the socket.
THREADED UNO FITTER
Threaded Uno fitters are typically for down-bridge lamps and feature a screw thread that attaches directly to a threaded socket.
EURO FITTER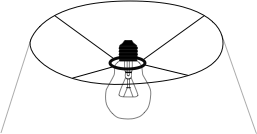 Euro fitters are made for shades with European sockets, where the bulb can be facing either downwards or upwards, and are held in place by a threaded ring that attaches to the socket. The placement of the fitting depends on which way the bulb is facing.
Finial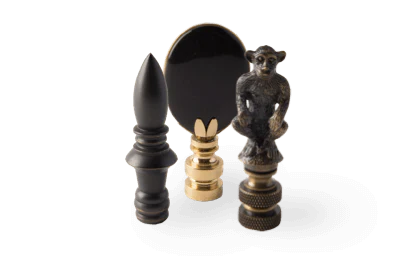 Most lampshades are secured by a finial. Like lampshades themselves, they come in many different colors, shapes and materials. They are just another element that can add distinctive charm and personality to your lamp set-up.