Our business clients include
Restaurants
Hotels
Interior Design Agencies
Retail stores
And many others.
Photo credit of S.R. Gambrel, Inc.
From intricate chandeliers, to table lamps, large floor lamps, and everything in between, we ensure that our clients are able to find the best shades to suit their needs. Below you'll find a list of  just a few of our notable corporate clients, as well as the services we provide.








Sample swatches
We have an extensive variety of stock materials from which to choose, and we will be glad to supply you with swatches of materials to make your selection easier. In the unlikely scenario that you do not find anything suitable from our selection, we can work with your own material, and if necessary, we can test laminate your fabric and provide you with a sample.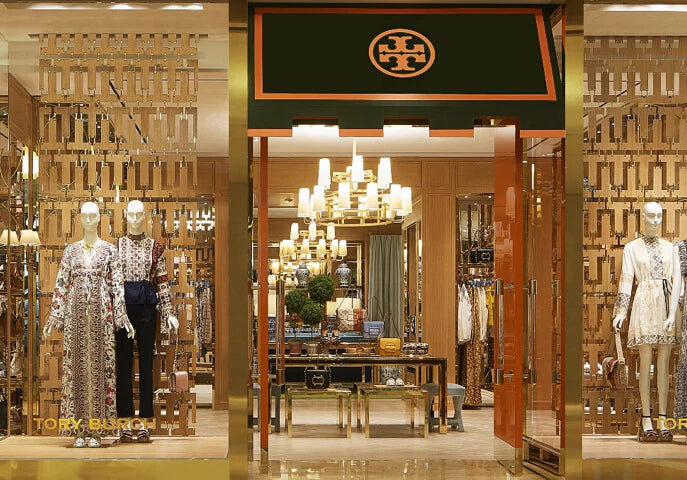 Photo credit of Tory Burch LLC
Professionals And Our Lampshades
Our B2B clients are comprised of some of the most prestigious designers, decorators, hotels, restaurants, retail stores, and other establishments throughout the country. Many of them are the trade professionals that set the trends for the rest of the industry.
The Power Of Consistency Over Time
With over 50 years in the business, we've built deep-rooted relationships with many of our B2B clients, as we continue to strive to provide them with the best variety, exceptional customer service, and a commitment to meet all of their lampshade needs.
Photo credit of Tory Burch LLC
Photo credit of The Manhattan Club
Production
Our factories use the best quality frames, as well as the finest papers and fabrics that will ensure durability, along with a high end look, whether it be a stock shade or a custom shade. We have the ability to create almost any shade according to your specifications and needs. If necessary, we can provide a prototype before putting an order into full production.

Order quantities
Our factories have the capacity to produce lampshades in large quantities with just a few weeks lead time, depending on the specifications.

Volume discount
For the hospitality industry, we offer a generous discount for volume orders.

Quality control
All of our orders are carefully checked for correct specifications and quality before being shipped out.
Consultation
Work with one of our experts to assess your needs and offer the best available options. We can begin the process via email, phone, or in-person meeting. We can guide you through the decision-making process based on photos, drawings and necessary specifications. We will happily assist and guide you. If you are a local client, we can also offer an on-site visit as well.

On approval
For local clients, we offer the oportunity to take lampshades on approval for a short term, so that you can try out the shades in their actual environment, with no commitment.

Trade discount
We offer a trade discount on stock items and special pricing for custom orders.